Sadly we have lost another long serving member of Ponteland Repertory, Ken Hylton. We received this obituary from his daughter, Beryl Downing.
Our dad, who was a member of the Rep for around 50 years, has died aged 96. Apart from his family, I would say that the Rep was the most important and enjoyable part of his life. He had so many friends in the Rep,
Ken joined Ponteland Rep in the 1955/56 Season, playing the part of the jockey in The Arcadians. However, his great passion was for Gilbert and Sullivan, and from the following season, he took the 'patter' role in virtually every G&S production the Rep put on for decades. I even saw him in productions of The Mikado, Pirates of Penzance and Iolanthe more than 30 years apart! He had a very true baritone voice and a well-developed sense of the absurd, which is necessary for Gilbert and Sullivan! He also enjoyed all the other musicals and appeared in plays too, Sailor Beware, being an early one the family remember with hilarity.
Ken also served on Rep committees, and was Chairman, twice, I think. Betty Nesbit will probably know. There was also the hard practical work of 'putting the stage up' before each performance and Ken was one of a handful of people who knew how to assemble it once it was hefted out of the cellar. In his latter years, when he was very frail, the majority of his reminiscences were about the Rep, his friends, and the parts he played. I spent a lot of time singing G&S and other musicals with him, and he never lost his ability to do recitations and monologues, which he had learnt for various concert parties over the years.
Ponteland Repertory Society would like to offer our deepest condolences to Geoff Warner on the death of his dear wife, Dorothy. Dorothy was a very committed and enthusiastic member of the Rep for many years and we thank her for all she did.
Sadly, Dorothy's husband Geoff died very soon after Dorothy. Both contributed so much to Ponteland Repertory Society over many years for which we, in the current Society, owe so much and will ever be grateful.
It is with sadness we report the death of another long serving member of the Rep. Anne Havis was without doubt one of the premiere actresses of her day, a true force of nature and a star wherever she went. Aside from her achievements, of which there were many, she was a multi-talented director, coach, but above all a lovely person, warm, friendly, but not afraid to point out that lines had to be learned well in advance of rehearsal. Anne was never one to 'gush' with praise, if you received a compliment, then you had had to work for it. However if you tried your best then she would support you through thick and thin. Members learned so much from her.Ponteland Repertory Society was immensely lucky to have such a talent working within it and helping to guide it as a company.
Anne's devotion to her beloved John knew no bounds . What a formidable partnership that was and what a support she was to John, devoted until the end.
Rep's

rapid return to outstanding performances!
Ponteland Repertory Society's first live performance after Covid restrictions were relaxed was truly ambitious: an outdoor production in Philip and Ruth Browell's beautiful gardens in Bolamof excerpts from Shakespeare's plays. Rehearsals done, lines learned, stage built, tickets sold and then it rained, no it poured! Undaunted, and with the kind permission of the Churchwardens the performers and audience moved indoors to the inspiringly characterful church of St. Andrew's and as always "The Rep" kept calm and carried on.
We watched wonderful performances from our cast. Lizzie Browell's beautiful soprano voice soared through the old church singing Jacobean and Elizabethan song, also performing pieces from Titus Andronicus, As You Like it and Richard III. Our "Preppies", with Carole Davies and Leo Emmerson, provided comedy as The Mechanicals from A Midsummer Night's Dream much to the amusement of our audience. An excellent piece as Richard III from Jack Stuart was all dissembling and menace. Philip Browell humorously entertained us all with his Falstaff from The Merry Wives of Windsor and the Prologue from Romeo and Juliet.
Other characters from A Midsummer Night's Dream made an appearance including the multi-talented Hayley Grant as Helena and Peter Errington and Sarah Blythe as two very different but highly effective Pucks.
From the Tragedies Jonny Woollett and Jules Stevenson Warrender delved skilfully and with much drama into the characters of Macbeth and Lady Macbeth. After which Jonny and Jason Long gave a fierce portrayal of Macbeth and MacDuff from the Scottish play as a pair of gangsters.
Amber Covington's haunting laughter, as she ran through the church as the crazed Ophelia from Hamlet, startled the audience at first, but earned her huge applause at the end for such an outstanding portrayal. Anna Wilson conveyed the emotion of a broken Juliet from Romeo and Juliet.
A further highlight, the three faces of Cleopatra was memorably played by Hayley Grant, Sarah Blythe and Amber Covington, with subtle skill and empathy, concluding their performance with the shared Sonnet 71.
Grateful thanks to everyone who gave of their time and energy, especially Ruth, Claire and Victoria on teas and cakes, Lesley on meeting and greeting with programmes and John, Philip Ruth and Gav on stage creation duties (unfortunately consigned to be under a tarpaulin due tothe heavy rain) to making this production such a success!
Ponteland Rep proving once again that they are alive and kicking!
A post-Covid rejuvenated Rep now looks forward to our Winter production of The Wizard of Oz in January 2022 at the Ponteland High School/Leisure Centre. (See our Website for details www.pontelandrep.co.uk )  
We look forward to welcoming you all back our super audiences. Look out for more details!!
If you would like to consider joining the Rep please consult our website for information.
Romeo and Juliet at Hexham Abbey on Valentine's weekend.
The Rep had a huge success with our innovative performance of an abridged version of Romeo and Juliet, en promenade, the audience moving with the actors around Hexham Abbey. This meant they could fully immerse themselves in the story, whilst playing their very own part in the play. The show looked to juxtapose vintage and contemporary, offering an entirely different take on the traditional piece.
Hayley Grant was directing her first production for the Rep, alongside Jonny Woollett, and thanks the Abbey for the opportunity to use the space.
Hayley also paid thanks to her cast of Preppies and the main repertory society for their hard work and dedication during rehearsals making the production. Our audience loved it and we had many positive responses.
PONT REP AND PREPPIES PRESENTED AN INCREDIBLE ALICE!
Ponteland Repertory Society with its Preppies Youth Theatre worked with enthusiasm on a very alternative musical production of 'Alice'. The original story of Alice in Wonderland was followed but a modern interpretation by James Leisy and Carl Eberhard gave the Society a real challenge. The songs, which were very new and unknown to the cast, had to be learned from scratch, demanding concentration and endless rehearsal.
The Director, Jonny Woollett, used all of his drama coaching and theatrical skills to craft a final and genuinely intriguing production which demanded some thought from the adult audience whilst still entertaining the children who came along.
The leading role of Alice was shared between two of the young actors from the Preppies. Becky Conroy and Jasmine Lever proved to be convincing and interesting Alices. They are to be congratulated on rising to the difficulty of the role and the solo songs which they sang so well in performance thanks to the leadership of the Musical Director, Amy Baker.
Similarly many other actors contributed to a successful show, including Jules Stevenson Warrender as a very crazy Mad Hatter and Jason Long as the neurotic White Rabbit. Tweedledum and Tweedledee provided comedy played by the two teams of Abi Cuthbertson and Gigi Tanner and, in alternating performances, Amy Sparshott and Amelia Long. All the cast, backstage crew and front of house team, too many to name, worked hard to give our local, loyal audience a fun, pre-Christmas evening.
Ponteland Rep and Preppies welcome interest in joining a friendly  amateur theatre group. Please email secretary@pontelandrep.co.uk for more information.
Lesley Eltringham
PONTELAND REP WINS PRESTIGIOUS AWARD!
At the National Operatic and Dramatic Awards evening at the Grand Hotel, Gosforth Park, Ponteland Rep won the BEST DRAMA award for The Crucible, the 2019 Spring production. This is an outstanding achievement for our local society and followed the true story of the Salem witch trials which occurred in colonial Massachusetts between 1692 and 1693.
This is a complex and difficult play but the whole company challenged it with enthusiasm, determination and energy. Difficult lines took hours to learn and rehearsals were long but paid off with a brilliant result from our local amateur actors and production team. Carole Davies directed with her usual skill and experience. There are too many hard-working individuals involved in the production to mention them all but the stars Jules Stevenson Warrender as Elizabeth Proctor and Jonny Woollett as John Proctor deserve a special mention for their superb performances, provoking real tears in some of the audience
Of course, the audience is vitally important in supporting a local amateur theatre group if this success from Ponteland Rep is to continue. The next production is 'Alice' the musical on December 4th– 7thDecember at 7.00 pm at the Memorial Hall with a matinée at 2 pm on Saturday 7th. A show for all the family for pre Christmas fun. Tickets online at pontelandrep.co.uk and at Ponteland Hardware, Merton way.
Lesley Eltringham

PONTELAND REP PERFORMED THE CABARET FOR PONTELAND GOLF CLUB SENIORS LADIES NIGHT!
Members of the Rep provided the entertainment for the Seniors Ladies Night at Ponteland Golf Club, a new venture for the Society which proved a great success! The performers used a variety of songs to tell the story of a difficult love affair. The Golf Club members were very surprised when Philip Browell burst out from the bar shouting in anger and then started to sing 'That's Amore' but they soon realised that this was the entertainer! Izzy Ions followed this with a dramatic 'Stop in the Name of Love' and Jules Stevenson Warrender, Lizzie Browell and Hayley Olsen amusingly sang 'Wash that Man Right out of my Hair'
Alex Easten gave a powerful rendition of 'Somebody to Love' with his backing group, which included Hayley Olsen and Ruth Browell. Jonny Woollett provided comic moments, improvising and involving the audience, much to their amusement. The rest of the programme is too lengthy to mention but suffice to say it was equally superb and was enthusiastically applauded by the Golf Club audience with many individual compliments from members.
Gav Stevenson Warrender and Rob Walker expertly provided the sound and technical support. Photos by John Eltringham.
Thanks to Jackie Wighton for her co-ordination of the entertainment and to Brian Hamilton, Seniors Captain and Martin Wighton, Seniors Vice Captain of Ponteland Golf Club for making us so welcome.Chairman Jason Long said 'One of the core aims of the Rep and Preppies Youth Theatre is to showcase talent. I am delighted we have another format to add to our repertoire.'
Once again our Pont Rep members did us proud!
SHINE!
Ponteland Rep and Preppies Youth Theatre's concert 'Shine' was a big success! We heard the music of some excellent singers and musicians from the Society and there was loud applause from a super audience who commented on the high standard of all who sang and played, including the comic interlude by Jonny Woollett!  Songs such as 'You Can't Stop the Beat' and 'Skyfall' from the Preppies and 'Fields of Gold' and 'Blackbird' from the Rep choir were among the many pieces included in the concert.  The standard of performance was equally high from all generations of performers. Unfortunately, there are too many names to mention here but all who took part deserve high commendation. The concert was organised by two talented young members of the Society, Zoé Buckthorp and Amy Baker to raise funds to support the Society's Christmas production of Alice the Musical. This event has raised an excellent sum to add to our funds needed to present such an expensive show. The next fundraiser is an 80s themed quiz night on 21stSeptember at Ponteland Golf Club – £20 per person includes a 2 course meal.
WITCHES IN PONTELAND?
Our local amateur theatre group, Ponteland Rep, presented The Crucible by Arthur Miller to our community recently.This is a true story of the Salem witch trials which occurred in colonial Massachusetts between 1692 and 1693. More than 200 people were accused of practising witchcraft—the Devil's magic—and 20 were executed! A complex and difficult play, the society challenged it with enthusiasm, determination and energy. This all paid off with an extremely professional production which the audiences really appreciated with a standing ovation on one night!  Feedback was extremely positive 'Superb performance!! I was rooted to my seat all night! '
The Crucible has a large cast and it is impossible to mention all of them. This is a lengthy play but the actors steadily and relentlessly learned complex lines with a lot of stumbling on the way! Peter Woodward joined the Rep for the first time to play an assertive and convincing Danforth. Jules Stevenson Warrender was performing only for the second time on stage as Elizabeth Proctor. Her portrayal  of controlled terror and despair was so genuine  it had some of the audience in tears. Once again one of the Rep's stars, Jonny Woollett, played a supreme John Proctor, revealing anger and vulnerability in equal shares. Durham University student and a member of the Rep since she was in the Preppies, the Rep's Youth Theatre, Amber Covington as Abigail Williams portrayed a troubled but dangerous girl without scruples to capture her man. Zoe Buckthorp played a frightened and confused young woman with some very dramatic moments. Jonny, Amber and Zoe are previous NODA award winners and continue to impress us on stage.
Carole Davies directed this production with her usual professionalism and resilience and is now retiring in this role. The Society owes so much to her talents, knowledge and organisational skills..
Ponteland can be proud of its local talent and of a lively community society which welcomes any newcomers, including young people interested in the Youth Theatre, Preppies.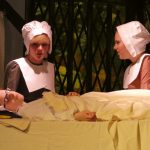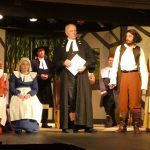 TICKETS ON SALE NOW!
THE CRUCIBLE BY ARTHUR MILLER
One of the greatest plays written in the 20thcentury, THE CRUCIBLE is based on events that took place in the small Puritan town of Salem, Massachusetts, USA in 1692. A group of girls are discovered dancing in the woods and then some of them fall ill. Fear and suspicion begin to percolate through the community and accusations of witch-craft are made leading to executions. An exciting, thought-provoking production from a superb Ponteland Rep cast!

PONTELAND REPERTORY SOCIETY WINS 4 PRESTIGIOUS NODA AWARDS
Ponteland Rep was awarded four awards for performance at a glittering evening at the Grand Hotel, Gosforth Park on Saturday 15thSeptember.
Congratulations to Zoé Buckthorp, who played Tuptim in the King and I last Autumn, for the Rising Star award and Deborah Barry for a Performance award in the role of Anna. The King and I production which included our Youth Theatre, Preppies, also received a Performance award.
Amber Covington won the Best Individual Youth award for her role in Four Weddings and an Elvis, our Spring Production this year.
We are very proud of these achievements and of keeping Ponteland on the map as a local theatre group.
Our next production is Snow White and the Seven Dwarfs, a pantomime Tuesday 27thNovember – Saturday 1stDecember at 7pm, with a Saturday matinee at 2pm. Tickets available online at pontelandrep.co.uk and at Ponteland Hardware, Merton Way. We look forward to welcoming our loyal audiences once again for pre-Christmas family fun!
PONTELAND REPERTORY SOCIETY IS NOMINATED FOR PRESTIGIOUS AWARDS BY THE NATIONAL OPERATIC AND DRAMATIC ASSOCIATION!
Ponteland Repertory Society is proud to be nominated 'Best Show' for their superb production at the end of November of The King and I. Deborah Barry, an experienced member of the Society, who played a stunning Anna in this production has also been nominated for an award. Zoe Buckthorp, in her first performance with the Rep as Tuptim, which was outstanding, is nominated for a Youth Award.
As if three nominations were not enough, Amber Covington has been nominated in the Youth Awards section for Four Weddings and an Elvis, playing a very feisty Fiona in our lively and hilarious Spring production this year.
We couldn't be more delighted that our local amateur theatre group continues to be nominated for more awards by the National Operatic and Dramatic Association. The support of our community, local press and social media platforms is much appreciated by the Society.
We look forward to welcoming our wonderful audiences again to our next production, Snow White and the 7 Dwarfs, a pantomime. Our new website is live and tickets are on sale there via ticketsource. Dates are Tuesday 27th November to Saturday 1st December at 7 pm with a Saturday matinee at 2 pm. Book your tickets and join us for some pre-Christmas fun!!
Lesley Eltringham
Tickets now on sale for Snow White & The Seven Dwarfs
Our next show will be taking place at Ponteland Memorial hall and will be from 27th November – 1st December 2017 (7pm shows with a matinee at 2pm on Saturday)
Our tickets for this spectacular show are now on sale and can be purchased from the link to the right.
The May Edition of The Rep's Wrap is available now!
Follow the image link to the right to download the May edition of The Rep's Wrap.
Memorial Hall hosts four weddings… and an Elvis
By Lesley Eltringham, Ponteland Repertory Society
The Society's latest production – comedy 4 Weddings and an Elvis – went down really well with audiences.
Jackie Wighton, a drama teacher from Ponteland directed her first production for the Rep. and Carole Davies produced the show.
There were some brilliant new actors in the cast; husband and wife team Jess and Giles Eyre-Tanner made their debut on stage. Jess, local mum and teacher, set herself the task of taking to the stage to fulfil one of 40 challenges she has set herself for her 40th year.
Lauren Lyon, also a local mum, came back to acting after 10 years away and was thrilled to take the main role of Sandy, the wedding chapel proprietor. For Ponteland dad Dario Sancho, it was also his first attempt at drama and he took to it like a duck to water! He is a natural comedian.
Taking leading roles were some of our experienced Rep actors – Leo Emmerson as an amazing Elvis, Jason Long as a geeky Marvin and Carol Emerson as the glamorous actress Vanessa.
Jonny Woollett played a frightening convict, Fist, whilst Amber Covington turned herself into an equally scary ex-con. Jonny also played the role of Lou, an ageing Minister, confusing the audience as to whether it was the same actor!
John Eltringham, as the drunken Vicar, staggered on and off in a cameo role. The Chapel of Love Singers were Sarah Blythe and Zoe Buckthorpe.
We were delighted to hear lovely comments by members of the audience as they were leaving.
Our next production this coming Christmas is the pantomime 'Snow White and the 7 Dwarfs'. Ponteland Rep look forward to welcoming you once again to enjoy your local amateur theatre.
Around the World in 90 Years
Our NODA review from March 2017.
Review by Michael L. Avery
Director: Deborah Barry
I always enjoy a good concert, a couple of hours stuffed choc-full of familiar music.  This was definitely a good concert and everything was within my list of personal favourites although I must still confess Gilbert and Sullivan is something of a foreign land for me.  However, the choice of Three Little Maids from the Mikado was a good choice and entertainingly performed. The show was built around two ideas – shows presented by Ponteland Repertory Society over the last 90 years and, secondly, a nostalgic trip around the world based upon songs from those operettas and musicals.  It worked very well, including the two "audience members" (Ann Lewin and Isobel Wind) who took their seats on the stage and commented throughout on proceedings, for the benefit of the rest of the audience.
It is difficult to comment on each excerpts and those taking part in them, so I intend to take a global look at the production, mentioning a few names in passing.  Suffice it to say that everybody involved managed to impart to the audience what was required of them.  The early days were represented by the aforementioned G&S, which I enjoyed despite my continued shocking lack of knowledge.  The subsequent musicals were easier for me to appreciate.
I was particularly impressed by The Preppies, a Junior Section of the company.  I understand they were formed in 2014 with 6 members.  The number has now grown to an impressive 45 or so and a reasonable number of them are actually boys, with several of the older members moving into the main company.  A very laudable achievement.  Ages range from approximately 9 to 18.
I also enjoyed Lucy Walton's version of The Sound of Music which she delivered well giving a very nice performance.  With such dependable adults as Johnny Woollett, Jonathan Cash, Katie Howes, Brian Barry, Joe Costigan and many others in the ensemble this was a very professional and enjoyable concert, an evening of memories.  The company and all involved in the production, especially Musical Director (and more) Deborah Barry who, I believe, strung the whole thing together, deserve high praise for their efforts.